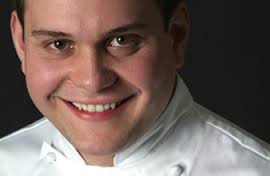 Quique Rodríguez, 32, chef at the luxurious Villa Magna Hotel in Madrid, who as a media Content Editor directs and produces content for digital media such as the magazine Gastronomicum, he has presented several documentaries, collaborates on radio and TV programmes and has presented gastronomic contests. He has also been a member of the jury in numerous cooking contests. He is a member of the board of Directors of ACYRE MADRID (Association of Madrid Chefs and Pastry Chefs). His Galician roots led to him being for the last seven years a collaborator on "And so to eat Lugo" "E Para Comer Lugo" and to being the technical director of the contest "Cume Tapas de Monforte de Lemos" (Lugo), (Eat Tapas, Monforte de Lemos) technical director of the Tapas Contest of the City of Lugo and the Provincial Tapas Contest of Lugo. Quique also periodically gives talks to students at the Madrid Regional government's Hospitality Schools where, besides conveying at first hand his well-known passion for cooking, he orients these professionals towards their future careers, based on his own experience in the sector and also applying the new technologies to the way of communicating "gastronomy". After leaving the Higher School of Hospitality and Tourism in Madrid some seventeen years ago, he went to work in the luxurious Ritz Hotel in Madrid and from there to several restaurants in the capital such as El Mentidero de la Villa, Santceloni (2 Michelin stars), Los Cigarrales, and also the Azurmendi restaurant in Bilbao (3 Michelin stars). Apart from his culinary studies he has also done several specialized cooking and gastronomy courses.
INTERVIEW
Let's begin at the beginning and how you began in cooking? Is it an inherited profession? Did it begin as a hobby or was it one of many possible professional paths?
Without having a single family member employed in either cooking or hospitality, at eight years old I already wanted to be chef maybe stemming from the love of good produce and eating well which was always present in my parents' house. From aged 16 when I started at catering college I was clearly set upon a vocational path, a profession which was both a pleasure and a way of life.
How would you define your professional role in the kitchens of the Villa Magna Hotel in Madrid?
I'm just another piece in the work of a great team, all of them superb professionals where the day to day is based on foresight and planning so as to offer quality service which is both unique and exclusive.
How do you see the future of gastronomy and the new technologies?
I think that we'll be enjoying developments in the kitchen such as zero-mile producers, locally grown more environmentally friendly food. We'll use technology to convey the message of gastronomy, to connect with the client, and make sure more information reaches the customers.
Are you more for traditional cooking or for evolutionary cooking; using science and converting kitchens into laboratories?
Without the base of traditional cooking, there is no place for any others, I believe in and defend a balance between the two, the traditional and the creative. Both of them contribute many positive things, such as respect for the product, pure flavours, technique, new textures and presentation of the dishes. I feel comfortable developing high-tech cuisine, showing maximum respect for the product, maintaining as far as possible its textures whilst extolling to the maximum its clean and pure flavours. I always champion cooking where "less is more" I only want on the plate what makes sense, what is coherent, the rest is superfluous. It's important to be aware of all the different techniques in the kitchen, but also to use them with common sense.
Do you think that we have peaked and there's now nothing new to be discovered in gastronomy?
I don't think that we've peaked. There is a change of tendencies and consumption and this is what provokes the awakening of creativity. Perhaps we might stop using a new technique but we'll know more about how to create great cuisine whilst respecting the product and how it's presented.
If you had a free hand, what would you do for gastronomy?
I don't like seeing how they consign to oblivion what is not commercial. I would also emphasize the role played by those who silently do so much for this profession. Just like the young students of cooking and confectionery one must bring back to them the values and the respect for this profession. I dream of promoting the role all of them in a grand project which I have in my head.
Have you ever thought if working outside Spain, for example in a country such as the United States or Latin America…if they offered you a Project designed for you with total liberty to be creative?
Although my life and my projects are in Spain, I wouldn't say no, I'd say perhaps. In fact the TV programme EnCasaContigo (At home with you) broadcast on Youtube on which I collaborate is followed by viewers in Latin America and the United States and the affection and loyalty they give us is amazing. Every month we hit around 5 million views. It's incredible how outside Spain they applaud our work.
I'm thinking about a phrase our mothers used when we were children when they told us that we didn't eat with our eyes….Do we eat with our eyes?
Absolutely, yes. If you look you can see that every day there is more focus on the staging; from good chinaware to the so called gastro-sensorial experience. Visually a dish or a product has to be attractive, the danger arises when because of this we sacrifice taste or quality. Unfortunately we still find many things which are beautiful, but of which only some are delicious.
How much do the critics set or promote certain tendencies in world gastronomy?
They influence society, but one can't live under the tyranny of any guide or critic. One should keep them in mind but be confident in one's own work and develop it, I'm certain that those who have done this are those who are now successful. If they are talking about you it's because to a greater or lesser extent you are provoking their professional interest.
Are we in Spain, in a position to profit from the international prestige achieved by Spanish chefs in recent years?
Even though we are a country which is a reference in the world of gastronomy and with great names in our kitchens, there are only a few who can use their prestige to launch projects that cost millions, at the same time there are others who can't find financing neither to represent their country nor their region in cooking competitions. We act less like a country of great chefs, and more as if there are great chefs who happen to be from Spain. There is an excess of individualism.
In every corner of the world we can find Chinese and Italian restaurants. In Spain, tapas are an excellent part of our culinary patrimony and culture and something which is very exportable. How can this be potentiated? What can be done to transform tapas into a trend to be exported worldwide?
Given my experience as the technical director in various tapas contests, tapas and the tradition of going out for tapas have an enormous potential with the public both within and outside our country, which can be used to promote the cities, reactivating their leisure activities and consumption. I believe that we need to give tapas brand status at a national level with the full support of the institutions and so represent Spain abroad with a series of activities and setting up of businesses supported by the same seal.
What would you recommend to a foreigner who is thinking of visiting Spain and what in your opinion should they not miss?
I'm sure that I would suggest an itinerary for different Spanish towns with gastronomy as the guiding theme. Each dish or gastronomic tradition would help them to better enjoy the culture of the place. As is to be expected I would recommend a route for the interior of Galicia so that they could discover for themselves a jewel of nature like the Ribeira Sacra.
Any future projects on the horizon? Anything that got left by the wayside that you'd like to talk about? 
Interesting projects always come up, what's difficult is to get them moving and make them visible. Even so, I am now working on an audio visual project which we hope will soon see the light of day and which you'll soon be able to enjoy.
Lastly, can you give us one of your own recipes for our readers to enjoy.
Today I'd go for steamed hake from Celeiro, accompanied by cockles, char-grilled leeks and a light potato, pea and fish stock soup:
STEAMED CELEIRO HAKE ACCOMPANIED BY COCKLES, CHAR-GRILLED LEEKS AND A LIGHT CREAMED SOUP OF POTATOES,PEAS AND THE HAKE STOCK.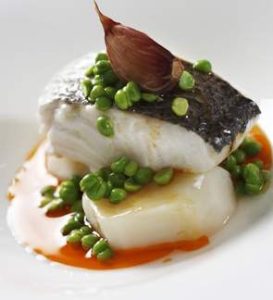 By Quique Rodríguez
Ingredients for 4 people:
4 hake fillets of about 200gr.
200gr. potatoes
20 gr. peas
300 gr. cockles
300ml fish stock
500gr leeks
Olive oil
Salt
Method:
Prepare four thin leeks and grill with some coarse salt. Reserve the rest of the leek, chop finely and sauté in a pan with olive oil. Add the potato to the leek and cover with fish stock. Let it cook for 20 minutes, add the peas, bring to the boil, blend and strain until achieving the consistency of a light cream.
Open the cockles by steaming, put the cockle flesh on one side and add the cockle stock to the cream of potato.
Steam the hake with salt for six minutes and mix the stock from the hake into the cream of potato.
Place the grilled leeks onto a plate, putt he hake fillets and the cockles on top. Serve accompanied by the cream of potato, leek and peas.
Ready to serve!
QUIQUE RODRÍGUEZ, A QUICK TEST:
An essential ingredient: Olive oil.
A special ingredient: Cocoa.
A dish from your childhood: My mother's cannelloni.
An everyday dish: A rice pilaf.
An aroma: Vanilla.
A wine to save in a shipwreck: A Ribeira Sacra.
The best of your dishes: One with seasonal vegetables.
A chef: Alberto Lareo of the Manso Restaurant in Santiago de Compostela.
A regional cuisine: Basque cuisine.
An international cuisine: Italian cuisine.
Three people who are indispensable in your life: My parents, my siblings and my friend, partner and right hand, Blas.
A culinary season (Spring, Summer…): Autumn.
A city to lose oneself in: The island of Ibiza.
An internet site: The Cadena Ser gastronomy section.
A book: Modernist Cuisine.
A film: Ratatouille.
A musical style: Electro-House.
A work of art: The Garden of Delights.
A tip or a very easy recipe: A few drops of Apple vinegar in many sauces.
A recipe to fall in love: Good ravioli with a great sauce. The guest gets to pick the filling.