Once again Álvaro de Yalocatoyo surprised a group of us, all bloggers, and according to him the best bloggers in the sector, with an event of wine, gastronomy and singer/song writing that interwove brilliantly to transmit the Soul of Protos.
#Almadeprotos took place in Madrid in the restaurant Metro Bistro. We were there to discover what differentiates Protos and makes it unique, converting it at a national level into an iconic winery of Ribera del Duero and internationally into an icon of Spanish wine.
We were fortunate to be able to taste the most emblematic wines of the winery and combine them with a wonderful menu created for the occasion by Matías Smith, proprietor and chef of Metro Bistro, which consisted of the following dishes:
Greeted by welcoming appetizers in the entrance…
Hummus of Fuentesaúco chickpeas, crispy pita bread and peppers. Our homemade croquettes are to die for!!!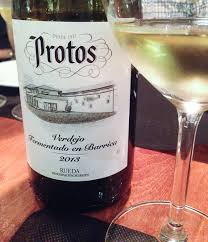 Both were paired with "Protos Rosé"
Tasting menú in the downstairs dining room…
Mushroom fricassée, crispy black chanterelle with a celeriac purée.
Paired with "Protos Blanco Barrica"
Grilled butterfish with ponzu sauce and pickled salad.
Paired with "Protos Tinto Crianza"
Iberian pork cheeks with demi-glace and local potatoes.
Paired with "Protos Gran Reserva 2006"
Cheese tasting with selected garnishes.
Paired with "Protos Finca el Grajo Viejo"
When we arrived we were welcomed with a Protos Rosé, very fresh and easy to drink, accompanied by some delicious croquettes and hummus. We were received by the directors of the winery, Mr. Carlos Villar, General Director, Mrs. Marilena Bonilla, Director of Communication.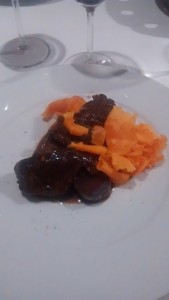 Then we moved to the cellar room on the ground floor of the restaurant where we were met by a spectacular table to begin the tasting session. In total we tasted 8 wines which fused perfectly with the songs of the Singer/songwriter Miguel Dantart, who has just presented his fifth studio album "Atlántida".
We began listening to Miguel Dantart; "The Journey of the Grape" .To open the way to the tasting of two white wines, Protos Verdejo and a cask fermented Protos Verdejo. Both of a remarkable quality, although we preferred the first, it was lighter and fresh, whereas the cask fermented wine, was a little woody for our taste.
We continue tasting a Protos Crianza 2012, comparing it with the Protos Crianza 2014, still in the cask and still awaiting its maturation in the bottle. The Crianza 2012 was a very pleasant wine and the 2014 we felt it held promise of becoming a better wine than the 2012, given that even lacking the time in the bottle, it wasn't particularly astringent and was pretty balanced. 
We took a break to listen again to Miguel Dantart and to give our senses a break before we began to taste the top of the range Protos. These "Pretty things" that WINE has.
We move on to taste Protos Reserva 2011, Protos Gran Reserva 2006, Protos Selección 2001 and Grajo Viejo 2012. Of these wines, that which most stood out was the Protos Selección 2001, a wine which is no longer made in the cellar and which despite being from 2001, preserved all its qualities very well, colour, smell and taste. Grajo Viejo, is today, the equivalent wine, and is also of good quality, but perhaps a little overpriced.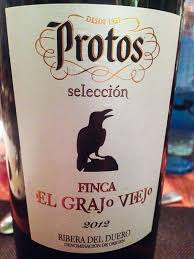 Then, Álvaro surprised us with his poetic side, accompanied by Miguel Dantart, followed by Miguel's latest composition. It was a moment to reflect on the most complex wines of Protos.
And the closing song:  "In the palm of your hand".
The evening drew to an end and we were all delighted to have had the opportunity to taste such incredible wines. It was a great event that gave us the opportunity to taste wines that may only be enjoyed at a wine cellar.