LENTILS WITH PIG´S EAR, MY WAY
By Sabores, Olores y Colores
I love lentils and all hearty stews, but so that they weigh a little less heavily, are a little bit lighter, this time I've prepared them with vegetables and pig's ear. This way what I´m eating is a bit more meaty which also serves to give the dish a mellow taste and texture.
 Ingredients for 4 people:
1 large glass of lentils (300 g)
100 g marinated pig's ear
1 onion
3 carrots
2 green peppers
2 slices of pumpkin
2 ripe tomatoes
4 cloves of garlic
1 pinch of salt
1/2 teaspoon of sweet or hot paprika
3 bay leaves
1 pinch of cumin
4/5 cloves
1 dash of olive oil
1 litre of vegetable stock
Method:
Soak the lentils overnight. I use a pressure cooker but you can use an ordinary saucepan or a clay pot. It all depends on the type of cooker that you have and the time available. Peel and cut the carrots into 3 or 4 pieces, the pumpkin into quarters, the green pepper into thin strips, the onion and the garlic cloves are left whole. Put a dash of olive oil into the pan, sauté the garlic and the now sliced ear making sure that they don't burn. Add the green pepper and stir it a little. Add the halved tomatoes and let it all sauté together. Then add the sweet or hot paprika, the pinch of salt, the cumin, the cloves and the bay leaves. Stir and add the remaining vegetables. Pour in the vegetable stock until the mix is completely covered.
Using a pressure cooker, close the top firmly and put on a medium high heat. When the steam valve rises, leave for 5 minutes then remove from the heat. Let the valve lower until you can safely remove the lid.
The cooked lentils can be frozen. When you prepare this dish, don't hesitate to prepare more (double everything) and freeze to be used another time.
Once the lentils are ready, if they appear too thick, you can add a little water.
Ready to serve!
 CHARD WITH GARLIC AND  CABRALES  CHEESE
  By Sabores, Olores y Colores
I copied this recipe from the owners of a country lodging in the area of Ribera del Duero, where I lived for about 6 months whilst I was working in the bodega of Matarromera. They looked after me extremely well and I wandered into the kitchen as if I were at home. I love cheese and this recipe for me is absolutely delicious!
 Ingredients for 4 people:
2 bunches of chard
6 cloves of garlic
1 dash of olive oil
1 pinch of salt
1 pinch of black pepper
35 g of Cabrales cheese
Method:
Chop the chard and wash well. Boil for about 10 minutes. It's very important to drain it thoroughly. Put a dash of olive oil in a frying pan and heat the chopped garlic taking care to not let it burn. Then add the well-drained chard and sauté it together with the garlic and salt and pepper to taste. After about 5 minutes more or less we add the Cabrales cheese. This is stirred thoroughly so that it mixes in well with the chard, and then melts. If you don't like Cabrales you could use another blue cheese such as Roquefort.
Ready to serve!
STUFFED PEPPERS WITH CHICKEN AND QUINOA
By Sabores, Olores y Colores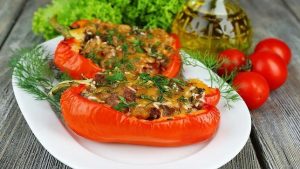 Stuffed peppers can be made in many different ways. Today I wanted to make them with quinoa, a product which is very in fashion at the moment, and with chicken so that they are a bit lighter.
 Ingredients for 4 people:
 4 red peppers
4 carrots
1 onion
1 small bunch of parsley
100g of minced chicken
2 eggs
Grated parmesan cheese
Fried tomato sauce
1 glass of quinoa
Olive oil
Salt
Black pepper
1 teaspoon of Dijon mustard
1 pinch of basil
Method:
We begin by thoroughly washing the quinoa to remove all possible impurities and we put it to boil in a saucepan with two glasses of water. We let it cook for approximately 15 minutes.
Whilst the quinoa is cooking, in another saucepan we are going to cook the carrots which have previously been well-washed and scraped. We slice the carrots and put them to boil together with the two eggs which we are going to hard boil. The eggs are removed after 10 minutes and the carrots after about 15-20 minutes, when they have softened.
In a frying pan, together with a dash of olive oil we put the finely chopped onion over a low heat until it softens. We add the minced chicken, salt and pepper and move it around without letting it cook through. We dice the boiled eggs and put them to one side. We mash the carrots with a fork and add them to the chicken. We give the mix a few stirs and add the Dijon mustard, stirring some more over a low heat although we quickly remove it from the heat.
We thoroughly clean the peppers outside, remove the tops and thoroughly clean them inside removing all seeds, then we cut them in half horizontally. We put them in the oven on a sheet of aluminium foil.
La quinoa should be ready by now, so we add it to the frying pan with the vegetables and the meat together with the diced egg.
Add salt if desired and leave the mix for a few minutes so that the flavours can blend.
We fill the peppers with the mixture and generously sprinkle each half of the stuffed peppers with the parmesan cheese. In a frying pan we put a dash of olive oil and a jar of fried tomato sauce, whichever brand you prefer, a pinch of salt and basil leave it to simmer for some minutes and then pour it over the peppers.
Place the peppers into an oven pre-heated to 180/200 degrees for between approximately 40-45 minutes, or until they acquire a golden colour, or to our taste.
Ready to serve!
APPLE PIE, MY WAY
By Sabores, Olores y Colores
This recipe brings back many childhood memories. I started to make it when I was very young when one day someone bought a jar of La Lechera condensed milk and the recipe was on the label. From the first day that I made it those at home began to ask for it to celebrate birthdays and also just because it was something they liked.
Ingredients for 6 people:
FOR THE PASTRY
30 g butter
½ glass of Moscatel wine
2 packets of Maria biscuits
FOR THE FILLING
6 Russet apples
1 tin of La Lechera condensed milk
1 piznch of sugar
Method:
Take the biscuits and crush them in the blender. Melt the butter making sure that it doesn't burn. In a bowl mix the crushed biscuits, the butter and the Moscatel until we get a dough like mix that can be easily handled, which we use to line a 25cm cake pan, which has a removable bottom.
Take the 4 apples and grate them until they are like a purée and add the condensed milk. Mix well and pour onto the crushed biscuit base. Decorate with the remaining 2 apples cut into slices. Sprinkle with sugar and put into a preheated oven at180ªC for approximately 30 minutes. Remove from the oven and leave to cool.
Ready to serve!
Send us your favourite recipe, the one that's a family tradition, the one which makes people fall in love with you, the one your children and grandchildren clamour for, or simply the one which you are proudest of. We won't allow it to be lost or forgotten… Oh! And send me a nice photo of the dish and the story behind it. 
¡Yum, yum!