The agency Gaia Comunicación specifically Rocío García, invited a group of bloggers and journalists to an event in Vino Premier, the specialized wine shop, to celebrate the awarding of the prize for the Superwine of the year to the wine MO SALINAS from Bodegas Sierra Salinas of the Alicante D.O. appellation of origin selected from amongst the 150 wines which participated in the competition organized by the Wine group MG wines, and celebrated at a private tasting in Madrid.
The tasting was led by the oenologist, wine historian and author of the guide Superwines, Joan C. Martín, who explained to all of us the steps they had to take before receiving the award for the best wine offering value for money, a prize which recognizes the best wines that can be bought in the big supermarkets and department stores, according to the "Superwine Guide 2016" which he, himself edits. We were told, that the Jury, made up of journalists from Madrid and Valencia had given this red an 8.4 out of 10.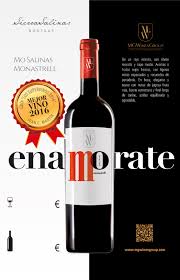 Joan emphasized the importance of the wine's place of origin in the Sierra Salinas, an area where we can find the biggest salt mine in Europe, a characteristic which is of paramount importance in giving this wine from the Sierra Salinas Bodega in Villena (Alicante) MG Wines Group, it's fresh and mineral notes. Also present were the executive members of MGWines Group, Jose Diego Miñano and Sergio Sachnovsky.
The director of MGWines Group, expressed his satisfaction with the award, considering the prize to be a recognition of the great effort being made within the MGWines group to produce high quality wines which are both modern yet very respectful of the terroir.
It is a young 2012 wine which has not spent time in barrels. It is smooth in the mouth, well structured with a long finish of tannin and acidity, both balanced and pleasant. Last year the winning wine was Juan de Juanes, an oro vintage reserve red wine, from the Valencia D.O.