Pioneer in television cooking shows, an innovative media chef and precursor for Karlos Arguiñano, Jamie Oliver and Ferrán Adrià in the present day, she was an American chef, writer and presenter and responsible for the introduction of French cuisine into the United States.
She is everybody's most loved American chef, someone of the calibre of Paul Bocuse but a female version. Author of famous books and a television personality who achieved fame by introducing French cuisine into the United States through her simple message of technique and taste.
Julia Child was born in California, USA. The daughter of entrepreneurial parents her education began in the most prestigious schools in the country. She began her career working as a secretary in Advertising agencies, then with the arrival of the Second World War she was part of the women's battalion.
During the Second World War she decided to enrol in the Office of Strategic Services (OSS) – and rumour has it – became a spy.  After a time, Julia was posted to Sri Lanka and China where she met her husband, Paul Child, who had lived in Paris as an artist, poet and sybarite. A member of the American diplomatic corps, he introduced Julia to French cuisine through a posting to Paris in 1948. His taste for fine cuisine was well known and he vaunted his fine palate. Political rumours of the time claim that in reality both were CIA agents, during the period of the Cold War.
It was there that Julia's passion for food began. Regarding this she wrote in one of her diaries "Chinese food was fantastic and we eat it always. It was there that I began to get interested in cooking. They are sophisticated people who know a lot about gastronomy…I simply love Chinese food".
The love between Julia and Paul began to grow and they decided to get married. Paul, lover of poetry, used to write letters, phrases and short poems to her. "Life without you is like food without salt" or "You are the butter to my bread, the breath to my life."
It was in France where Julia Child understood the importance of food, she was impressed by the flavours and techniques used by the French in preparing their dishes. Such was her euphoria for gastronomy whilst living in Paris that many famous quotes have remained for posterity, phrases such as:
"I'm probably the only American I know in Paris who thinks that buying food is as much fun as buying clothes. You'd think the same if you lived in a country where there isn't a single garment in your size.
"Until I discovered cooking I wasn't really interested in anything"
Such was her passion that she decided to study cookery at Le Cordon Bleu where she learned further techniques and developed her mastery of French cuisine. The now very knowledgeable Julia Child noticed something about cookery books.. which was that there was no book of French cuisine published in the English language.
Whilst she was studying at the Cordon Bleu she met Simone Beck and Louisette Bertholle, two women who loved cooking. They took Julia to the French ladies gastronomic association, "Le Cercle des Gourmettes". In 1951 the three friends opened a cookery school aimed at Paris housewives which was called L'Ecole des Trois Gourmandes – The school of the three gourmets- until she and her husband moved to Cambridge, Massachusetts, where she began her professional career as a writer and chef.
It was then, that her friends and fellow chefs encouraged her to transmit her new found knowledge to the American audience.
Child wrote for the Boston Globe and in 1963 made her debut on TV with her show The French Chef, a great success which lasted for more than a decade and which brought her both prizes and popularity. In 1966 she was on the cover of Time magazine.
Julia decided to write a book of great magnitude to bring the mouth-watering recipes to America. She was principally responsible for weaning American consumers away from tins, frozen and processed foods and guiding them towards a fresh and tasty cuisine and with her overwhelming happiness, she achieved a wonderful metaphor in the way to look at life.
Was she a visionary in her time or was American gastronomy at the time so basic that she was compelled to share her ideas with her compatriots?
Julia Child was a cookery specialist for housewives. Basically she taught Americans to cook their products using French techniques, but best of all is that she explained this with her special charisma which captivated her followers as she showed them how easy it all was.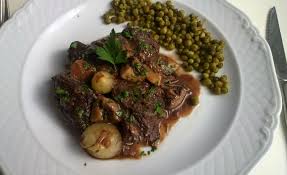 Julia Child was famous for her height (almost 1.90 m) and her somewhat strange, warbly voice, she dressed for her television programmes in her iconic three quarter sleeved cotton shirt and her denim apron. She was frequently imitated.
Let's talk about some of her famous recipes:
Boeuf Bourguignon, a beef stew. A mouth watering casserole of beef with wine accompanied by shallots, carrots, mushrooms, bacon and of course olive oil and spices and herbs such as thyme, garlic and bay leaves. Something which at that time this would not have occurred to a single American.
Her speciality was chicken, and this is why she is credited with the mastery of the roast chicken, with personalized, simple, easily explained cooking techniques to achieve moist well cooked meat.
Here is a selection of her programmes, the images and her voice speak for themselves:
[vc_video link='https://www.youtube.com/watch?v=eTo3qSXnYCs']
Thanks to the success of her book "Mastering the Art of French Cooking" she returned to the USA where she published in several newspapers and magazines as well as the generous offer to be able to record her own television programme called "The French Chef" which was a great success during its 10 years on air and which won many prizes.
But it wasn't easy for Julia to get published. Why was this? After years of hard work the book was rejected by several publishers because they felt it was too much like an encyclopaedia and somewhat difficult to absorb.
The book called Mastering the Art of French Cooking, was finally published in 1961. The tome even today is part of the library of many North American families and also of families around the world.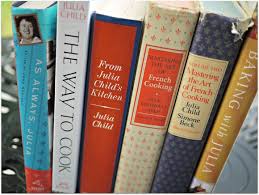 A curious point, Mastering the Art of French Cooking, reached Spain about five decades late – it was published in the United States in 1961 with her friends, Lousiest Bertholle y Simone Beck as co-authors.
For many Mastering the Art of French Cooking is a cook book such as we don't see today. One of those cookery books of more than 800 pages, without photos that begin with techniques and utensils and which assumes that at home we have a special ingredient everyday more difficult to find: time. Time to buy, time to cook and time to sit down at the table with family and friends.
It's something like The Recipe book of the Women's Section and The 1080 recipes of Simone Ortega. Those cookery books that are found in all Spanish kitchens
Those who thought that eating is a pleasure comparable to watching a good film were not mistaken, as is proved by the recent boom in all things culinary.
2009 saw the premiere of Julie & Julia a film which not only tells her story, but is also a source of inspiration for novice chefs and gastronomy bloggers, given that it recounts the parallel lives of Julia Child and of Julie Powell, a person who doesn't know what to do with her life until she had the idea of cooking all Julia Child's recipes and relating her experiences in a blog. Today blogs are part of our lives, but in 2002, Powell was a blogging pioneer.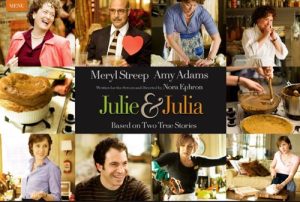 So we find a film which knows how to cross the mirror of time and tells us the parallel stories of two women separated by fifty- three years, who try to end the failure that threatens to engulf them through their domination of the cooking pots.
Julia Child can inspire us given that her story of overcoming difficulties can motivate new generations regardless of age and tastes, it shows us that we can achieve our aims if we set our goals and feel passion for them.
Today, the name of Julia Child remains in the hearts and the pans of the North Americans. Besides keeping alive the culinary roots, she aimed to create the best taste.
First lets listen to the film's trailer.
"Julie y Julia"  more than a film about gastronomy, is a romance which simmers gently, a fable about having the tenacity to finish a project and the way to build a stable married life. Both marriages were childless and perhaps because of this, both Julie and Julia could devote their time to their own personal fulfillment. Behind these two great women were two men in love with their wives and also great admirers of their work in the kitchen, something which helped in the promotion of both their culinary careers. What unites these two stories is passion, a passion for food that helps them to overcome the periods of uncertainty and the difficulties involved in finding balance in their marriages.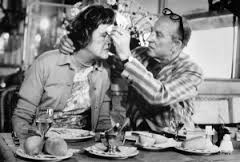 Everything that Julia learned at the school, she cooked for her husband. She, bursting with enthusiasm as she was, devoted many hours each day to studying and revising what she had studied. Such was her dedication that Paul took to calling himself "the Cordon Bleu widower" Thus he decided to organize dinners at their home for prestigious members of the community and the Embassy so that Julia would have opportunity to practise. Regarding the new occupation of his wife, Paul was spot on when he wrote: "Watching Julia in front of the stove with full pans, boiling, frying, simmering provokes in me the same fascination that I feel when I'm watching someone playing the timpani in a symphony. Julia with her blue apron, a spoon in each hand, stirring two concoctions at the same time"
Meryl Streep remembers that during filming "It made me cry, this idea of what one puts in front of one's family, this love, these ties between people, these are the important things."  The way Julia Child sees life.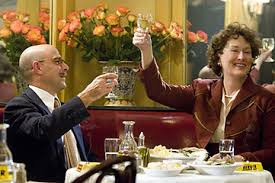 After the show, Julia continued writing books and articles. She spent her retirement in California in the city of her birth where she lived the good life to the full, until she left us in 2004 at the age of 91
She was awarded the  Legión de Honor by the French Government and the Presidential Medal of Freedom in 2003.
She left lovers of cooking more than 10 successful books.
In November 2001, Julia Child left her house in Massachusetts and donated her kitchen and all her accessories to the Smithsonian History Museum in Washington, United States. The replica of Julia's kitchen is today one of the most visited exhibitions in the museum.