As she herself recounts with a great deal of humour in her extremely long biography, she was born in Montevideo, Uruguay on 13th August 1953 weighing in at 5kg into the heart of a diplomatic family. Her father was Ambassador to Moscow, Buenos Aires and London.
She was so plump and hairy when she was born that they called her "The Mother Abbess". She attended the British School in Montevideo, where she only stood out in useless sports: hockey, netball, rounders and athletics. She didn't speak, not because she had nothing to say, but because she didn't dare. It took her years to pluck up the courage.
She moved to Spain where she attended the British Institute, which as it lacked sports facilities meant she couldn't shine in anything. She was transferred to the Santa María del Camino school, but she hated it and her marks hit rock bottom; by dint of insisting, she manages to be transferred from there and sent to a boarding school in England. She's so ugly that her mother can't do anything but take matters in hand and take her to have her nose operated on (in Paris). This brings in its wake a significant improvement, both physical and intellectual. She passes her A levels brilliantly. She returns to Madrid to do the Spanish Pre-University course. On returning to England she starts writing and produces a first book of "ecumenical tales".
She met a Rafael Ruiz del Cueto on a blind date. They were married in the church on the Lenin hills, Moscow (her father was posted there at the time as part of the Uruguayan diplomatic representation). Following an entrenched Soviet tradition she left the bridal bouquet in the mausoleum of Lenin. The newly-weds settled in Madrid. Perfect wife, perfect cook. Her beef stroganoff magnificent, her desserts a delight. Her children Sophia and Jimena are born and she has an existential crisis. Without telling anybody, she goes back to the "ecumenical tales" . Not wanting to be seen as a housewife who writes novels she started pushing to get one of her completed texts published. At that time she felt herself to be an insignificant person: painfully shy, she made herself invisible and so everyone was surprised when she got home with the bible stories published.
She is divorced from her first husband and goes to live in London, in her parents' house with her daughters. At thirty years old she begins a three year period of late adolescence.
She once again thinks of literature and takes back control of her life. A friend suggested that she write a book of interviews based around the question: "Which historical figure would you invite to dinner?" Working with Luis Miguel Dominguín, one of those featured in the book, she met José Antonio Vallejo-Nájera, who at the time was setting up the publishing company "Temas de Hoy" and he suggested to her that she write a manual for the perfect social climber. Whilst visiting Madrid she has dinner with a friend who introduces her to Mariano Rubio. She marries Mariano Rubio who at the time was the Governor of the Bank of Spain. The wedding is celebrated in the Spanish Consulate in Vienna. She continues to write, now with a certain degree of success and also participates on film scripts until in 1998 she wins the Premio Planeta with "Little Indiscretions".
Translated into 23 languages, Little Indiscretions has sold more than 700.000 copies since its publication and subsequent translation. In 2003 the magazine Newsweek named her as one of the leading authors of her generation.
En 1999 Mariano Rubio dies and Carmen is left a widow. Since then she publishes almost a book a year. She is the author of more than fifteen children's books, plus twelve novels, two biographies and several film and TV scripts. Besides being Advisor to the European University of Madrid, where she has funded the Carmen Posadas Chair.
INTERVIEW
It seems that Carmen Posadas cooks well, likes and enjoys it. It might seem strange to some that the daughter of an Ambassador gets into the kitchen when one supposes that in the Embassies there are maids and cooks who do everything. Did you learn by sneaking into the Embassy kitchens?
Where else? In the Embassy kitchens they prepare everything. From home-style cooking to the most sophisticated dishes. The pleasure is in the variety.
Referring to one of your books, "Invisible Witness", which tells the story of the Young Leonid, chimney sweep and kitchen boy in the Imperial kitchens Tsarist Russia. In your own words, there is very little written about the servants, "invisible witnesses to the most intimate and private matters". It is surprising because they are invisible witnesses to everything, although very few have told their stories. Why is this?
No, I don't understand why there isn't more literature written by the invisible witnesses. I am sure that History with capital letters would be much more interesting with their contributions.
You wrote a book together with Marta Robles, "After you: secrets, manners and unwritten rules". What is the rule of protocol that we should never forget?
One that is very simple. Do not do to others what you would not wish that someone do to you.
Gastronomy makes many appearances in your novels as do the small details which happen around a table. Haven't you thought about writing a recipe book, maybe in novel form?
I've already done it. It's called "Today caviar, tomorrow sardines".
Do you enjoy doing the shopping? Do you go to the supermarket or to a traditional market? Maybe you shop online?
Before I used to love going to the market, I would spend hours looking for the rarest ingredients the most delicious. Now I only do it with my grandchildren, they are great cooks.
When you get together with family or friends, what is the menu that you most like to prepare?
I like to ring the changes. As I have grandchildren I go for recipes that they like; my lasagne wins every time. They are the dessert experts and they especially love making "Flat Jacks" (so easy and later I can serve them as chocolates when I have guests).
If you could choose from any moment of World history 10 guests to be seated at your table; who would be your choice?
Saint Teresa, Cesare Borgia, Casanova, Marcus Aurelius, Jane Austen, Machiavelli, Rasputín, Madame Curie and Jesus Christ.
Back to your novels. In "Today caviar, tomorrow sardines" that you wrote together with your brother Gervasio, you talk a lot about the "gypsy" lifestyle of your childhood with your Diplomat parents. Is that the origin of the book title?
Yes, it is a metaphor for diplomatic life. One day you are eating caviar with the Queen of England and the next eating a sardine sandwich in some type of office or just hanging around in corridors. In reality I like the ups and downs, huts and castles are both boring when there's no variety.
Amongst all the recipes that you mention in your books, there is one which you call Fake Lobster. What is it exactly?
My mother's signature dish. It doesn't have even a trace of lobster. Only monkfish and grated carrot. The trick is in the presentation. It was usually served in a flamboyant lobster shell.
What is your favourite Spanish recipe to eat and which to cook?
Spanish omelette, also "broken" eggs with ham.
It is said that smells are the memories of our childhood. Of what does yours smell?
Of "tuco". An Italian tomato sauce that was served on Saturdays with homemade pasta.
What would you advise a foreigner who is visiting Spain and what in your opinion should they not miss?
That they should take risks and take advice. I spent years without trying elvers (they reminded me of worms), I didn't know what I was missing!
Let's talk about wine. Do you like Spanish wine or do you prefer those of other latitudes?
Spanish wines are splendid.
I have no doubt that you have a load of happy memories, many amusing and entertaining anecdotes. Can you remember any gastro-anecdotes?
The strangest (and also politically incorrect) was my wedding menu. I got married in Moscow and at that time (the height of the Soviet era) with the planned economy there were either shortages or over production of food items. At that time there was over production of meat…bear. My mother decided to make a virtue out of necessity. She asked the Bolshoi Theatre to lend her bear head made out of a paper maché and using this for decoration she served bear meat stroganoff. It was a complete success.
Suchard,the turron brand of Mondelez International, has joined with Carmen Posadas to create the brand's first Christmas story. In this way, the traditional brand continues the path set in previous years when Suchard developed the concept of Deja salir al niño que llevas dentro (Let out your inner child). The brand has created a story which will be available in its full version and totally in the digital platforms of Ibook and Amazon, you can also find it in the main retail chains for the purchase of three bars of Suchard. The brand chose Carmen Posadas as a writer of recognized standing, including literature aimed at children and adolescents, where apart from a prolific amount of writing where stories are to the fore, she has also been the recipient of major prizes.
Carmen, How do you live Christmas? To many of us it seems to be a celebration which has become prostituted and which only serves to make us feel sad, angry, put on weight, put up with queues and traffic which thanks to the present Mayor is a disaster. You on the other hand write Christmas stories for which I suppose you have to bring out your inner child, returning to the ingenuity and innocence of childhood. When you write for children is that how you feel? And by the way, what's this Christmas story, published together with Suchard Turron about?
When they suggested the Project to me it seemed like a great idea. For many adults Christmas can seem to be a nightmare, a procedure to be got through but children live it another way: whilst children enjoy the excitement and the magic, adults see it as a time of stress and multiple obligations. Suchard's Project with the slogan "Deja salir al niño que llevas dentro" ("Let out your inner child") was a lovely way to help parents to once again believe in Christmas, just as has happened to me with my grandchildren. An advent calendar in which each window recounts what happens in many kinds of houses on Christmas Eve.
Lastly gives us a recipe from your collection for our readers to enjoy.
You ask for a recipe of my harvest and I send you the recipe of Strogonoff, from my book "Today Caviar, Sardines tomorrow".
CARMEN´S BEAR STROGONOFF
(The recipe can also be followed, using beef sirloin, but omitting the marinade) 
By Carmen Posadas
Ingredients for 8 people:
For the marinade:
6 tablespoons of oil
3 tablespoons of vinegar
½ litre white wine
1 small glass of cognac
2 onions
2 carrots
1 stick celery
1 clove garlic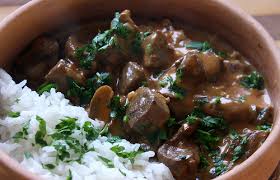 Thyme
For the casserole:
8 sirloin steaks (yes that's how it's referred to in a bear..)
3 tablespoons of butter
1 glass of cognac
3 tablespoons of liquid cream to cook
Salt and pepper
Method:
The quantities of bear meat per person should be slightly less than for beef or pork because it is much richer.. As it's a tough meat, it's a good idea to marinate it for 24 hours in a mixture of white wine, a glass of cognac, oil, vinegar, aromatic herbs such as thyme , pepper a stick of celery, carrot and a pinch of salt. After being marinated, remove the meat from the liquid and cut into small chunks, a bit bigger than potato chips.
Heat three dessertspoons of butter in a frying pan, when it's hot fry the pieces of meat, moving them to avoid them burning.
Once they are a golden brown (3 minutes more or less), add salt and pepper.
Then add a glass of cognac and flambé.
Reduce the liquid. Remove from the heat and add three tablespoons of cream. Put it back on the heat. Add salt and pepper and serve on a warm plate. Serve with rice or kasha ( buckwheat groats), if you can get hold of them. Even though it has a strange appearance , it's very tasty and goes very well with stroganoff.
Ready to serve!
 CARMEN POSADAS, A QUICK TEST:
An essential ingredient: Salt.
A special ingredient: Lime zest.
A dish from your childhood: A soufflé of dulce de leche.
An everyday dish: Lentils.
An aroma: Bread.
A wine to save in a shipwreck: Any German white.
The best of your dishes: Strogonoff.
A chef: the genius who invented the Spanish potato omelette.
A regional cuisine: Only one??.
An international cuisine: Peruvian.
Three people who are indispensable in your life: My two daughters and my Father.
A culinary season (Spring, Summer…): Winter, without a doubt.
A city to lose oneself in: London.
An internet site: I´m not an addict.
A book: The Bible, is got everything.
A film: Sunset Boulevard.
A musical style: Carmina Burana.
A Restaurant: any tavern homemade food.
A work of art: Anything by Goya.
A tip or a very easy recipe: Everything on a low heat.
A recipe to fall in love: Fried eggs and chips.
What ingredient is missing in your kitchen? Ginger