MY GRANDMOTHER'S TOMATO JAM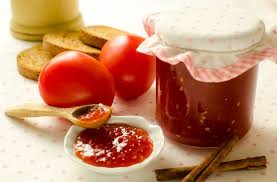 By Sabores, Olores y Colores
My mother's birthday was approaching and I thought that she'd enjoy being able to once again taste my Grandmother's tomato jam. As a child I had watched her prepare it many times, so I decided to get to work.
If you decide to try out this recipe, you'll see how you'll always have a jar of tomato jam in your fridge.
Ingredients:
1 Kg. of ripe red tomatoes
500 gr. of sugar
1 cinnamon stick
Method:
Firstly wash the tomatoes thoroughly and remove the stalks. Halve the tomatoes then quarter each half into small chunks and put them into a pan together with the sugar and the cinnamon stick.
Put them on a high heat and when they begin to smoke, stir and lower the heat to medium-low. Leave them to cook for forty minutes, stirring occasionally.
At this point you'll see that you have in the pan a "tomato jam" which is a little runny, this is normal if we take into account that the tomato juice will have caramelized thanks to the sugar. So bear in mind that when this mix cools it will thicken. Remove the jam from the heat and put into glass preserving jars, give them a stir and heat them in a bain marie for forty minutes.
Take the jars out of the pan, being very careful not to get burned and store in the larder to be able later to enjoy our tomato jam with breakfast and teas.
Ready to serve!
MY MOTHER'S MEXICAN CEVICHE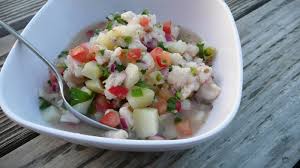 By Sabores, Olores y Colores
Ceviche is one of the flavours of my childhood. My mother grew up in Mexico and even though she doesn't know how to cook, this is one of the few dishes that she always makes for family get- togethers. This is why I wanted to share with all of you. It's very easy and very nutritious.
 Ingredients for 4 people:
1 Kilo of grouper, hake, monkfish, cazon or any other whitefish.
6 lemons
6 limes
2 red onions
1 green pepper
1 red pepper
2 red tomatoes
1 bunch of chopped coriander
2 soup spoons of ketchup
1 pinch of salt
1 pinch of black pepper
Method:
Wash the filleted fish and cut into small cubes.
Into a large bowl which is glass or plastic, not aluminium, put the cubed fish the lemon and the lime juice, a little water and the salt. The liquid must completely cover the fish.
Stir the mix and leave the fish to "cook" in the lemon and lime juice. When it changes colour from transparent to white it's ready, so take it out of the liquid and drain well.
Chop the onions, red pepper, green pepper, tomatoes and the coriander.
In a large glass bowl, mixed the chopped vegetables together with a pinch of salt, black pepper, olive oil and the ketchup. Mix thoroughly and add the "cooked," drained fish.
Ready to serve!
MANO'S LENTILS

By Sabores, Olores y Colores
These lentils are in memory of my beloved Mano. My Granny and that of my brothers and sisters, my nephews and nieces. A second mother who devoted herself to her family and even though she didn't like cooking when she got down to it she did it very well
 Ingredients for 4 people:
1 large glass of lentils (300 g)
100 g of chorizo
1 onion
1 green pepper
3 carrots
3 medium sized potatoes
100 g of pumpkin
4 garlic cloves
1 pinch of salt
1/2 teaspoon of sweet paprika
1/2 teaspoon of hot paprika
3 bay leaves
1 pinch of cumin
1 dash of olive oil
1 litre of vegetable stock
Method:
Put the lentils to soak overnight. I use a pressure cooker but you can also use a normal saucepan or a clay cooking pot. It all depends on the type of cooker that you have and the time available. Peel and chop the carrots into 3 or 4 pieces, cube the pumpkin, cut the green pepper into thin strips, the potatoes into 2 or 3 chunks, the onion and the garlic cloves are left whole. Put olive oil in a pan and sauté together the garlic and the chorizo cut into 3 or 4 pieces, taking care that they don't burn. Add the green pepper and stir a little. Add the sweet and the hot paprika, the pinch of salt, the cumin and the bay leaves. Stir and add the rest of the vegetables. Add the vegetable stock until everything in the pan is covered.
Using a pressure cooker, close the top firmly and put on a medium high heat. When the steam valve rises, leave for 5 minutes then remove from the heat. Let the valve lower until you can safely remove the lid.
The cooked lentils can be frozen. When you prepare this dish, don't hesitate to prepare more (double everything) and freeze to be used another time.
Once the lentils are ready, if they appear too thick, you can add a little water.
 Ready to serve!
TOYA'S MEATBALLS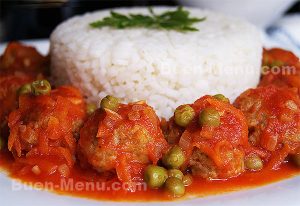 By Sabores, Olores y Colores
This is one of my favourite dishes, homemade, homely, it's real comfort food on a cold day.
Ingredients for 5-6 people:
1kg of minced meat (it can be mixed or all beef)
1 pinch of salt
1 pinch of black pepper
1 chopped onion
1 bunch of chopped parsley
1 egg
Homemade tomato sauce (we make it a bit spicy to add taste) For the tomato sauce:
1 clove of garlic
1 chilli pepper finally chopped or ground in a mortar and pestle (optional)
1 tin (large) of puréed natural tomato
A small bunch of fresh basil
1 pinch of salt
Method:
The tomato sauce is very easy to make. We only have to put the finely chopped garlic in a frying pan, together with a dash of olive oil. Next we add the chilli and the tin of natural puréed tomato. Simmer on a low to medium heat until it reaches the desired consistency, be patient. We add the fresh basil just a few minutes before removing the sauce from the heat, because it needs very little cooking time. When the sauce is ready we add the salt and pepper, remove it from the heat and put it to one side.
To prepare the meatballs, first we have to mix together in a bowl the meat, the egg yolk, the finely chopped onions and parsley, adding salt and pepper. Using our hands we combine the ingredients until they are well mixed in with the meat.
A tip for shaping the meatballs: place the meat mixture in the fridge for an hour or so and you'll find it easier to shape the meatballs, although in fact they can be made perfectly well just after creating the meat mixture. You just have to form the balls with your hands very damp (so that the mass sticks to your hands as little as possible).
Once the meatballs have been formed it's time to lightly brown them in a little olive oil and then pour the tomato sauce over them.
I suggest accompanying them with a nice white rice or some french fries, whatever the consumer prefers.
Ready to serve!
Send us your favourite recipe, the one that's a family tradition, the one which makes people fall in love with you, the one your children and grandchildren clamour for, or simply the one which you are proudest of. We won't allow it to be lost or forgotten… Oh! And send me a nice photo of the dish and the story behind it. 
¡Yum, yum!